Camel wool blanket Gobi 200x145cm (78x57in)
$189.00
Out of stock
Description
LEFT: only 1.
Camel wool blanket, pure, organic. 100% pure camel wool, organic product. 200x145cm (78x57inch).
Mongolian Camel wool is an ecologically pure product and has been proved for its warmth and durability through the test of nature.
The Gobi camel wool products are manufactured with the highest quality raw materials, the best processing technology, and according to modern fashion trends.
Research has shown that using natural raw material like wool as filler in the blanket is very convenient for human health. Due to its unique properties of wool that absorbs moisture from the environment and insulates from outside, thereby providing the heat balance, but also with good air conditioning. Also its unique quality of softness and lightness will allow you comfortable sleep.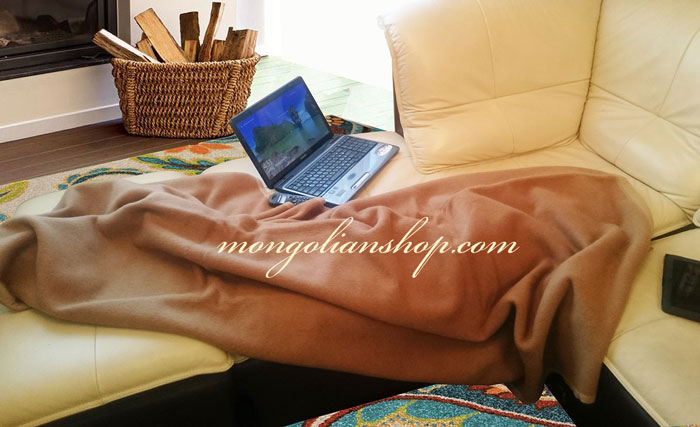 Unlike the other kinds of wool camel wool is non-allergenic and non-electrified. Camel wool contains lanolin, which is absorbed by skin and gives therapeutic effect. It perfectly removes static stress, dirt-repellent and keeps you from the influence of electromagnetic fields. Camel wool has warming properties that broaden blood vessels, intensifies blood microcirculation, activate metabolism and reducing process in tissue. The warmth of the wool is dry and therapeutic.It massages tingling your skin improving blood circulation.
Manufactured in Mongolia, which produces world level lux cashmere and camel wool products.
Dry cleaning
Size: 200cm x 145 cm (it can 150cm wide sometimes)
Weight: 1600 gr (1.6
Only logged in customers who have purchased this product may leave a review.